Installing the PresenterMedia PowerPoint Add-in
Installing the Add-in is as easy as 1,2,3. Below are the steps to complete this process:
First, make sure you are on the installation page of our website where it gives you the link to begin the download. Go ahead and click the link. This will begin the download process which may appear in your status bar on your internet browser. Once the download is complete, it is time to Install
Next, once the download is complete, click on the Install icon named: presentermedia_plugin_install_v1.exe

Last but not least, the installer will guide you through a series of prompts to confirm you would like to install this Add-in to your PowerPoint software. Below are the prompts as they appear during the installation process:

Once the installation is complete, you are now ready Open PowerPoint and start using our Add-in!
---
Uninstalling the PresenterMedia Add-in
So you want to uninstall the Add-in? Alright, we'll help you through that process as well.
The first step is to go to the Control Panel on your computer. There is a simple way to do this:
Click on the Windows button in the bottom left corner of your desktop. The Control Panel will be located on the right hand side about half way down the column with "Documents" , "Pictures" , "Music" on it. Click the "Control Panel" button located here.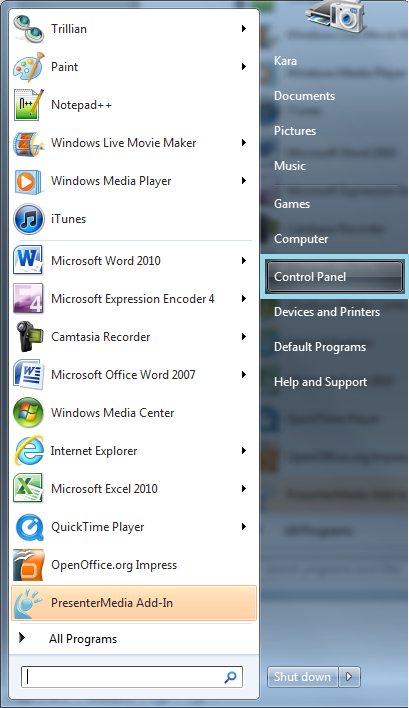 The second step: Locate where the "Uninstall a Program" button (or "Add or Remove Program" in Windows XP) is, and clickit.
Next, locate the PresenterMedia Add-In under the program list, right click to see "Uninstall/Change" appear.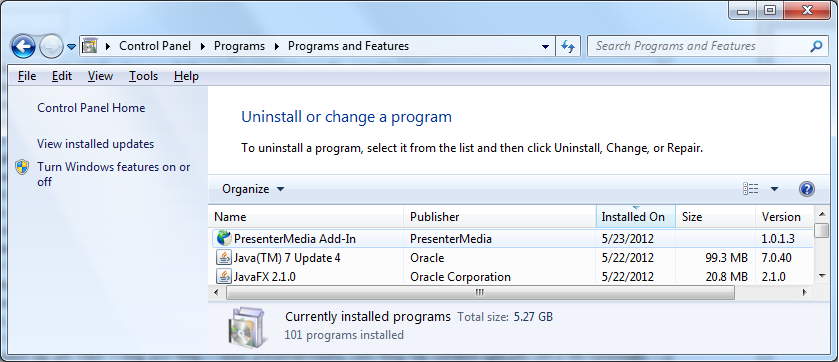 Finally, as with the install, follow the prompts to complete the un-installation process.