Dashboard Overview PowerPoint Template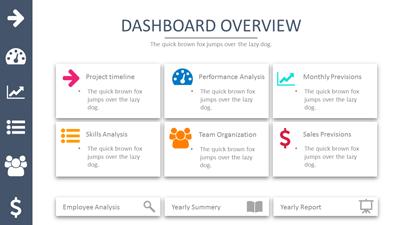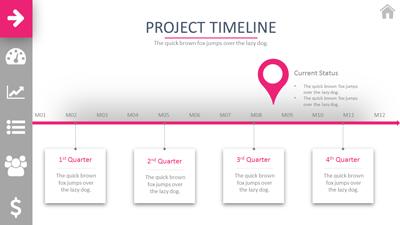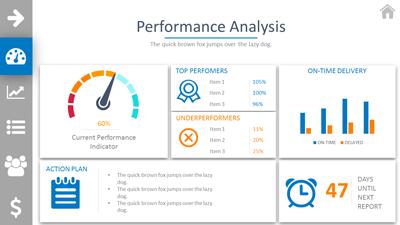 Show More
Template Downloads:
POWERPOINT
2010-2019
PP 365
(PC & MAC)

Description:
This company dashboard overview PowerPoint Template contains 10 slide layouts, each having a unique slide layout, but working together for a complete interactive dashboard. In this template, you will find animated slides for engaging your audience.

Use this dashboard template PowerPoint template to show company statistics, performance, and previsions in an engaging way. Use the interactivity of this template to jump to different slides or just click the mouse to advance to the slide in order.

Whatever kind of organization you are working in, this dashboard company overview template will be sure to help you skip over the design process and focus on the data you would like to share.

Here are layouts Included in this interactive PowerPoint template:

Project Timeline
Performance Analysis
Monthly Provisions
Skills Analysis
Team Organization
Sales Provisions
Employee Analysis
Yearly Summery
Yearly Report


See more of our PowerPoint templates to integrate into your presentation designs.
Keywords
dashboard overview company analysis report statistics projections sales employees previsions performance organization