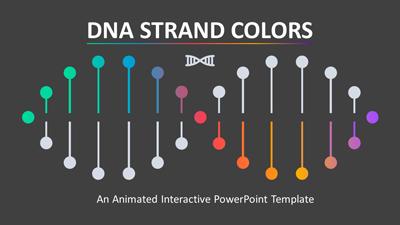 This science DNA template for PowerPoint contains easy to use interactive slides. In addition, you can choose to use PowerPoint slide layouts with two DNA sections to five DNA sections.
Get interactive with Science
Each DNA section has an icon linked to a close-up slide of more information about that section. Each close-up page contains three different design options you can choose from. Therefore, options included are an image with a description, smart art images with a text description, or a bar graph. You can add any content of yours to this slide to customize it to your needs.
Simplistic but PowerFul
This DNA science template for PowerPoint shows a simplistic layout of a colorful DNA strand that's broken into sections. All template layouts are animated to bring an extra flair to your science presentation, which will hold the attention of your audience better.
Added help if you need it
Also, to help you better use this template you will find slides at the bottom contain many helpful tutorials on how to:
Change out an icon with a new one.
Choose a new design option for close-up slides.
Make the PowerPoint template static.
Easily change hyperlinks to use the interactivity.
Change the theme colors of this PowerPoint template.
Also, icons in this template easily changeable in PowerPoint 16 or higher.
Find more science PowerPoint templates in our science and technology category.