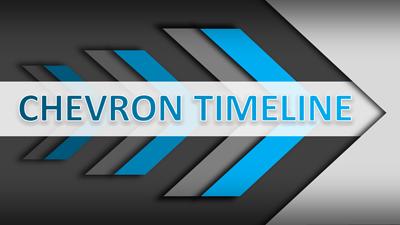 Sleek Timeline Design
This sleek chevron PowerPoint timeline template is designed around a chevron shape. You can choose from a three-point timeline up to a 6 point timeline. All chevron template slides are animated to help you better engage your audience, keep their interest, and help them retain your event information.
Beauty is Simplistic
In each template slide, you will find a simplistic chevron layout that you can fully customize with your colors, images, and icons. Impress your viewers without having to design anything. All images in this template are quickly replaceable with your own.

If you need help using this template, find how-to instructions included at the end of the template slides.
Three ways this chevron template can make your information more engaging
Pre-Animated slides will draw your audience's eye
A simplistic chevron design that is visually pleasing
attracting Close-up slides to better relay your information

Note* Icons in this template easily changeable in PowerPoint 16 or higher.

Find more PowerPoint Timelines like this by searching our Timeline PowerPoint category.