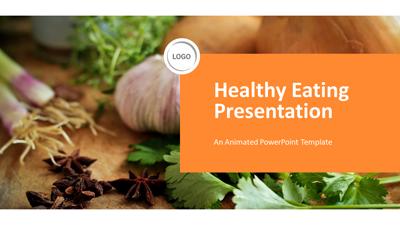 Deliciously Engaging
This nutrition PowerPoint template for PowerPoint contains various professionally designed layouts using vivid food images. All nutrition template slides are animated to help you better engage your audience, keep their attention, and help them retain important information.
Simplistic Nutrition
With each template slide, you will find a simplistic nutrition layout that you can fully customize with your colors, images, and logo. Your viewers will be so impressed without you even doing much work. All images in this template are quickly replaceable with your own.

For added help, find how-to instructions included at the end of the template slides.
5 great nutrition tips for this template
Also, to help you better use this template you will find slides at the bottom contain many helpful tutorials on how to:
Compare eating healthy to not
Add a nutrition plan
Share a nutritional recipe or two
List the benefits of eating healthy
Add a nutritional quote you love
Note* Icons in this template easily changeable in PowerPoint 16 or higher.
Find more PowerPoint templates like this by searching our PowerPoint category.