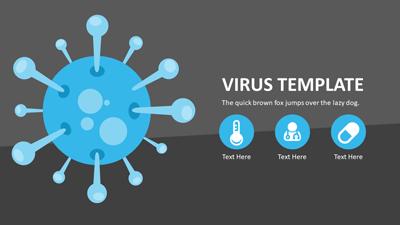 Animated Virus Design
This virus PowerPoint template for PowerPoint contains various slide design layouts themed around a virus. You will find all virus template slides animated to help you better engage your audience about viruses.
Simplistic Virus
With each template slide, you will find a simplistic virus layout that you can fully customize with your colors, images, and logo. Impress your audience without having to any design work or animating. All images in this template are quickly replaceable with your own or from the PowerPoint icons library

For added help, find how-to instructions included at the end of the template slides.
The Coronavirus
With the unprecedented Covid19 impacting the world, this would be a great template for easily adding your coronavirus information to share in a presentation, marketing material, or a post on social media.

Here are layouts Included in this virus template for PowerPoint:

Virus Points Slide
Orgin of Virus PPt Slide
Virus Transmission Slide
Spread of Virus Slide
Infection of Virus Worldwide Slide
Virus Prevention Safety Measures Slide
Vaccine Timeline Slide
Comparision of two viruses Slide
Virus Symptoms and Treatments Layout
Find more PowerPoint templates like this by searching our PowerPoint category.