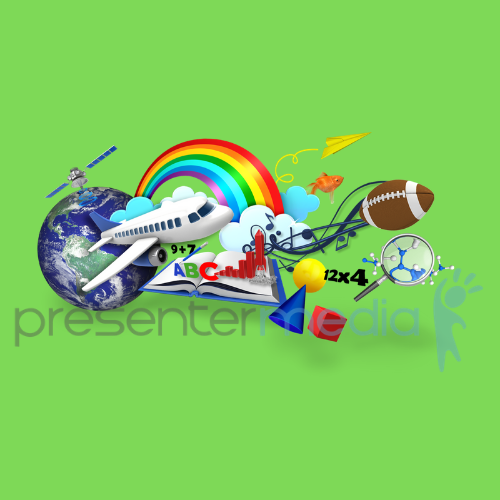 Yes, it's that time again, also time for great Back to school education clipart Graphics, Animations, and PowerPoint Templates to help liven up your teaching material.
So welcome back to fall, with it familiarities of changing leaves and pencil shaving fights. But added this year is its heartache of distance learning, remote learning, and missing kids and teachers alike.
At PresenterMedia, we understand the difficulty of communicating with each other over long distances. Sometimes you just want to give someone a hug, and all you can send is a GIF. We're here to provide educators and students around the world with media to enhance their digital world. This includes PowerPoint/ Google slide templates, clip art, animations, and videos all tailored for education and distance learning. Let's jump into a few of our newest and favorite items within the theme of school, education, learning, teachers, and students.
PowerPoint Templates for Education
If you are looking for general education-themed templates, we have a great selection to get you started. Some of the most popular general education templates we include are animated templates as well as toolkits.
22030 School Kids Silhouette Preview video
17613 Organize-It Notepad Layout Preview video
From reading to science, math to geography, these templates work with Google Slides as well as PowerPoint. And what's an awesome presentation without a few fun graphics? Never fear, between our clip art, animations, and custom text items, we've got you covered.
Education School Themed ClipArt
So, if you feel stumped on how to spice up your classroom, consider using our education-themed clip art images to add some visual intrigue. These include over 100 items that cover the core coursework curriculum such as math, science, English literature, and geography. Our newest images help show the difference between traditional classrooms and distance learning.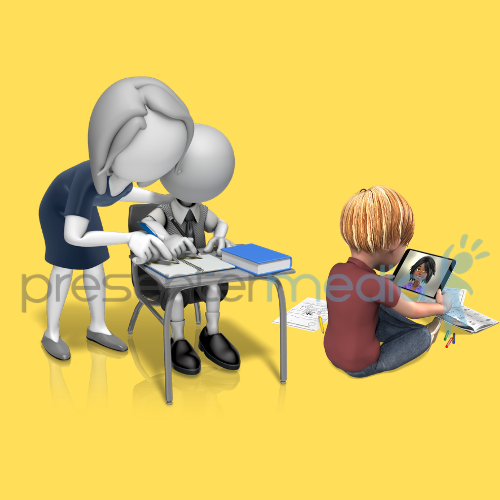 Traditional Learning clip art image
Distance learning clip art image
You will notice that the images above show our traditional stick figures as well as our newest offerings, which add the ability to customize skin tones. This includes customized hair colors and accents. Our goal with these new color choices is to add variety to our already expansive group of clip art images for our subscribers.
Education Themed Animations
Next, when words just aren't enough, our animations are here to liven up any discussion topics. Available as either a GIF or MOV, these animations are able to be inserted directly into a PowerPoint Presentation or a Google Slides Presentation. Additionally, they will work on embedded LMS websites as well.
455 Math Symbols Bouncing Text Backdrop (GIF or MOV with clear or solid background)
Head with Ideas Animation (GIF or MOV with clear or solid background)
Education Themed Video Backgrounds
Finally, our video backgrounds have a large selection of math, science, and global themes to choose from in order to provide a calming background to presentations.
Customize your own video background, or use one of our loopable backgrounds in your presentation
So, get started with all our Back to School education clipart graphics, animations, and PowerPoint templates. Creating fun and engaging material that will grab your student's attention.
To request new creations at PresenterMedia, leave a comment below, or send us an email to support@presentermedia.com , we keep track of all customer suggestions and use them to tailor our newest content as we create it.