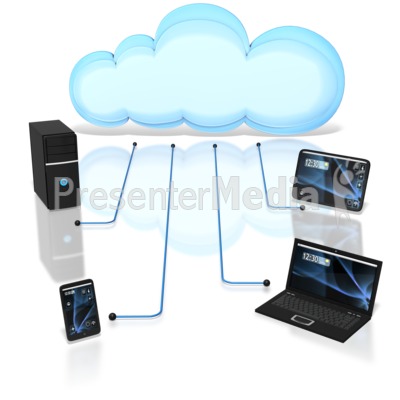 Well folks, I have bad news for you, it's cloudy with a chance of turmoil for the foreseeable future. The system is becoming increasingly complex, with a likelihood of storms of users and is rising into cyberspace at a dramatic rate. Alright, enough weather analogies. Today we're looking at the increasingly populated world of Cloud servers. We will be looking at four of the Cloud server systems: Dropbox, iCloud, Google Drive, and Microsoft Skydrive. Without further adieu, I will being my "schpiel". We'll start with Dropbox.
This is a pretty straight forward system. It's not a document editor, it is simply a storage device that you can never inadvertently drop off the coffee table, have stolen from your backpack, or discover your German Shepherd gnawing on it happily. It stores any kind of files you want, from photos to animations to documents and more, basically, in a box. The storage capacity starts around 3 gigabytes (of digital storage) and goes up from there, with a price. 3 is free, 5 is not. What does this mean for our content? Simple. You can now download our content, put it safely in the drop box if you need to collaborate with others before inserting it into your webpage, presentation, or document. Our content will nestle down gently into the folds of the box, surrounded by packing peanuts of the digital world, and wait patiently for you to take them out into the light of day and proceed to impress your colleagues, friends, classmates, clients and more. Over the past few years, Dropbox has actually stepped up their game and created apps that work with Android, Windows, and I-Devices. This is actually one of the reasons this application is extremely competitive, as it is only one of the two competitors shown today that can actually handle this feature. Our next candidate, slightly more advanced, but still a bit limited, the Apple iCloud.
It's an apple cloud, but don't worry, not too many will fall down from this guy. Apple designed their Cloud to hold documents, photos, music, calendars, contacts, and more (is this sounding vaguely familiar yet?). What's better, because all of Apple's apps are written by the same company that created the Cloud, the content automatically updates, without you needing to push any kind of a button. For our Apple subscribers, this is an incredibly valuable tool if you need access to your content, such as our Quicktime animations and keynote templates. That's right, if you store your Keynote presentation on your iCloud from your computer, you can then open it on your iPad, iPhone, any i-device that is also running Keynote. They even have it as an option to Copy From your iTunes, which is stored, on your Cloud! Google Drive: Yes, Google Drive has a promotional video rather than simply an icon, although if you are ever looking for it, their icon is:
The first competitor to Dropbox (in my humble opinion) was Google Docs. They started like a good book being written. Just a page, then a chapter, a novel, and it is fast becoming a saga. Images, presentations, word documents, you name it. This Cloud now has the ability to drag and drop files from your explorer straight to a folder on your computer, which then uploads it to the Cloud. It's extremely user friendly, and what's more, Google Drive has an App for i-devices, for Windows, and for Android devices. It officially is the second and only Cloud discussed today that can handle cross platforms. So for that, Go You, You Google You!
Now for what puts it ahead of its predecessors, Google Drive will allow you to EDIT a document that you opened with it. That's right, it's Open Office that isn't limited to the content that it can store. Obviously not ALL content can be edited (see audio, video, image files). It has a basic version of a word processor, spreadsheet, presentation (Yes like PowerPoint), a very basic image editor, table creator and a form creator. The important thing to remember is that these do not download straight to Microsoft Office, but if you did not purchase Office, this is an excellent alternative that would still be effective.
How does our content work with Presentation on Google Drive? Let's take a look, shall we? When we open a pptx (PowerPoint) file in Google Drive, it sees it as a PowerPoint still. Now we'll move it over to Google Presentation to check out what features we have.
Windows Live SkyDrive: Alright, Google doesn't get to have ALL the fun. I'm going to move on to last, but certainly not the least of these giant Clouds. Microsoft has had Skydrive available at least to a select group of users since 2007, so it is a 5-year old. This is not the same as a five year old computer, which seems to be outdated as soon as it comes off the assembly line. No, Skydrive has gotten progressively stronger over the past five years, ultimately stepping into the limelight with the release date of Microsoft Office 2013 (when it's released for real, that is) and as it's been pushing its new Internet Explorer 9 (yes, there is another video, I'm a sucker for a good soundtrack) OK, moving on about the actual system. Skydrive is a word processor and Cloud storage device all in one. Not only that, but it is now able to be downloaded directly to your PC, or your Mac. That's right, we are looking at cross-platform, and it was designed by one of the largest moguls in operating systems. Microsoft really thought ahead with the latest version of Office, allowing it to sync directly to Skydrive, effectively allowing users to download straight from Skydrive to MS Office products, all without ever leaving their document/presentation. What does this mean for PresenterMedia? This means more sharing of your presentation, wider audiences to view your product, portable storage for those presentations you didn't have time to burn off to a CD, 7GB of content at your fingertips whenever you want it. Create Word, Excel, PowerPoint and One Note documents online, download them to any computer, save directly to the Skydrive to save precious space on your hard drive (think if you have a Windows phone or tablet, save your docs to your Skydrive instead of your hard drive). The user interface is intuitive, feeling very much like the Windows Explorer folders for navigation, maintaining that layout if you attempt to open a file from Windows. What's it look like you ask? Here are some images we've found floating around about Skydrive:
OK, now let's take a look at what an online account looks like. This was a bit trickier to find, so I used my own.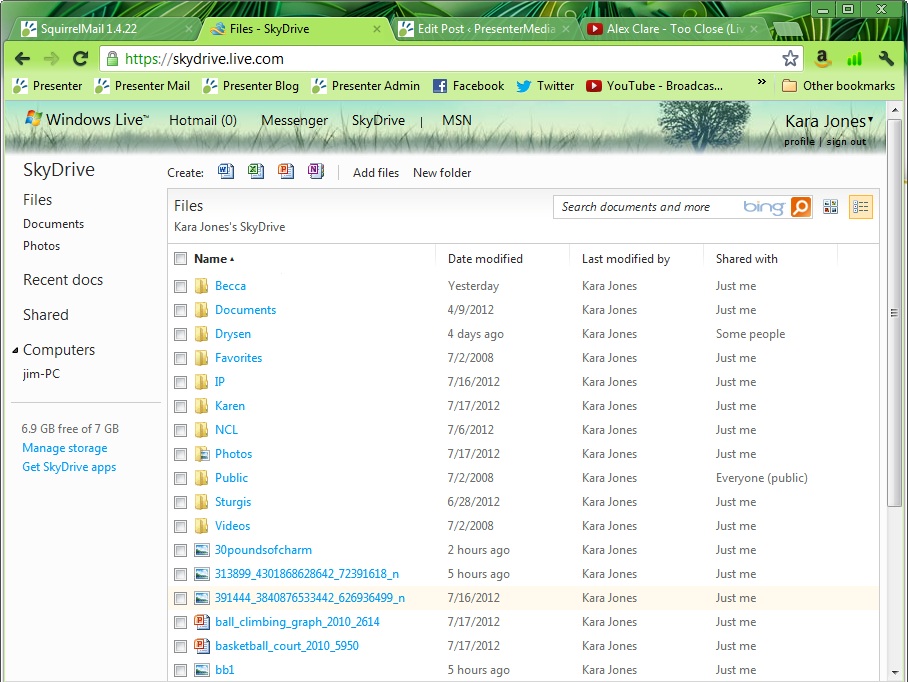 Now for the million dollar question. Which one do I prefer? Honestly all four of these have strengths of their own. Drive can work in more formats than Skydrive, Dropbox works with more content types than iCloud, but iCloud has the strength of Apple behind it. Personally I've been using Skydrive as I work almost exclusively in MS Word and PowerPoint, and the seamless conversion from my home computer to my work computer is nearly flawless, and if I want to work online, I can do that from my tablet without losing the formatting and still being able to see the product. Google Drive, Dropbox, and Apple iCloud are all also strong systems, practically storms of their own. Ultimately all that matters is this: which one will you chase?