So, one of the most common questions we receive is, how to copy slides in PowerPoint from one PPT presentation to another presentation, or a different PowerPoint template.
So, how to copy slides from PowerPoint?
It is very easy to copy slides between presentations. I'll use a couple of our PowerPoint templates as examples in this tutorial.
I'm going to use PowerPoint 365 for this tutorial but the process is the same for PowerPoint 2007 and newer.
Step 1
Open up the presentation you are making and the template you want to copy a slide from.
Step 2
In the template, right-click on the slide in the slides tab or in the slide sorter view you wish to copy and choose Copy from the menu. See the illustration below.
Step 3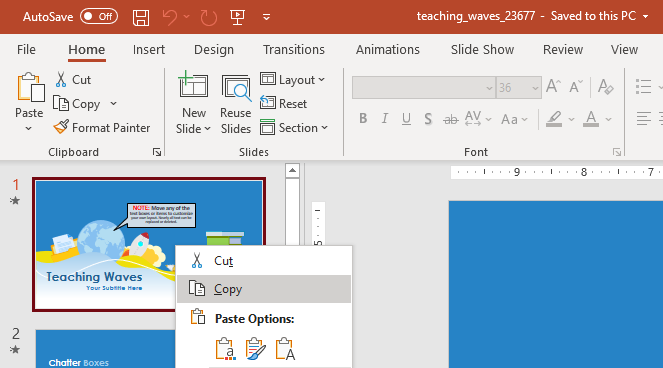 Paste your slide you just copied in the presentation you are working on. Right-click in the slides tab or the slide sorter view at the place you wish to insert (paste) the slide.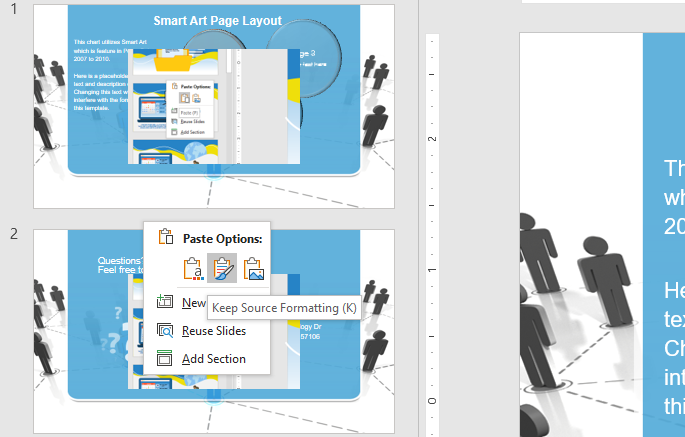 Step 4
Below the "Paste Options" icon you'll see 3 icons, one for matching destination formatting, one for keeping source formatting, and one for paste as a picture. In order for the slide to retain the look of the slide from the template you copied from, you need to tell PowerPoint to use the formatting from the "source"
In the Paste Options, you can choose "Keep Source Formatting". This retains the format from the template you copied from.
That's how to copy a slide in PowerPoint. Nice and simple right? Go ahead and start putting together your favorite slides from all of our templates.
If you're more of a visual learner, you can view our video tutorial on copying slides in PowerPoint at the YouTube link below:
Good Presenting!
Art Holden