PowerPoint templates can really level up your presentation. But where do you even start? If you're looking for a professional, high-quality PowerPoint template, then look no further than PresenterMedia.com. In this blog post, we'll show you exactly how to download a PowerPoint template from PresenterMedia.com so that you can take your presentation to the next level.
A short video tutorial to help you get started downloading your first PowerPoint template, loading it into PowerPoint, and adding slides from multiple templates.
We hope that this video is helpful in getting you started using PresenterMedia PowerPoint template themes. This video will help guide you through downloading templates, changing between static and animated layouts, and copying slides from a template to an existing presentation.
Written Template Download Instructions:
First things first, head on over to PresenterMedia.com and sign up for an account. Once you have an account, please browse through the thousands of templates we offer. When you find one you like, click on it to access that template's close-up page.
There are two places to download the template from on the close-up page.
First, click the bright green button contained in the preview window.

Second, find the quick template downloads under the preview window and click on which one best suits your PowerPoint version.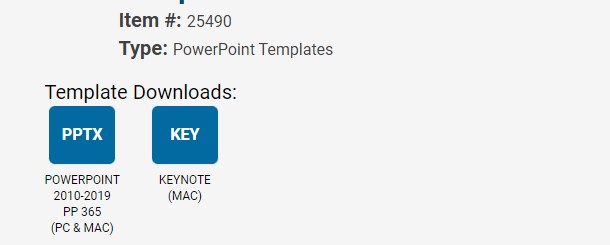 Once you click "Download," a pop-up window will appear asking where to save your template on your computer. Once you have found your desired file format, simply click "Download," and your download will begin automatically! That's all there is to it! The file will download as a PPTX file, the native PowerPoint format, or as a .key file, which is compatible with Keynote (the Apple equivalent of PowerPoint). *Note - Some templates will not be compatible with the keynote software.
PresenterMedia.com is the best place to find download high-quality Animated PowerPoint templates. In this blog post, we showed you how to download a PowerPoint template from PresenterMedia.com in just a few simple steps. So what are you waiting for? Go forth and make excellent presentations!