Save Precious Time Designing in PowerPoint by Installing our PowerPoint Add-in.
Learn More Here
*Add-in not required for using PresenterMedia website.*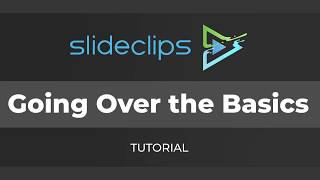 SlideClips Video Maker - Going over the Basics
Posted on: Feb, 2020
By: Judd Albrecht
This tutorial explores the layout of the application, getting familiar with everything that makes up the SlideClips online video maker.

This video is available on YouTube
This Tutorial Will cover the following topics
0:00 - Getting to SlideClips from Homepage
0:20 - Slideclip video maker landing page
0:35 - Launch from a template
1:27 - Slide manager overview
2:32 - File dropdown options
5:01 - The Sidebar ( Adding elements to your work area)
8:21 - Gently diving into grouped objects
10:24 - How to change text, colors of text, add a stroke, and shadow.
16:34 - A quick look at the timeline
20:08 - Adding customized items
9:35 - Changing your project background
21:38 - Saving and Downloading your completed project as a video
23:36 - Looking back at how to add audio to your work area
With this online video maker, you can quickly start creating your own videos for marketing, presentations, or social posts.
Check out our collection of collection of SlideClips Online Video Maker projects to get started with.