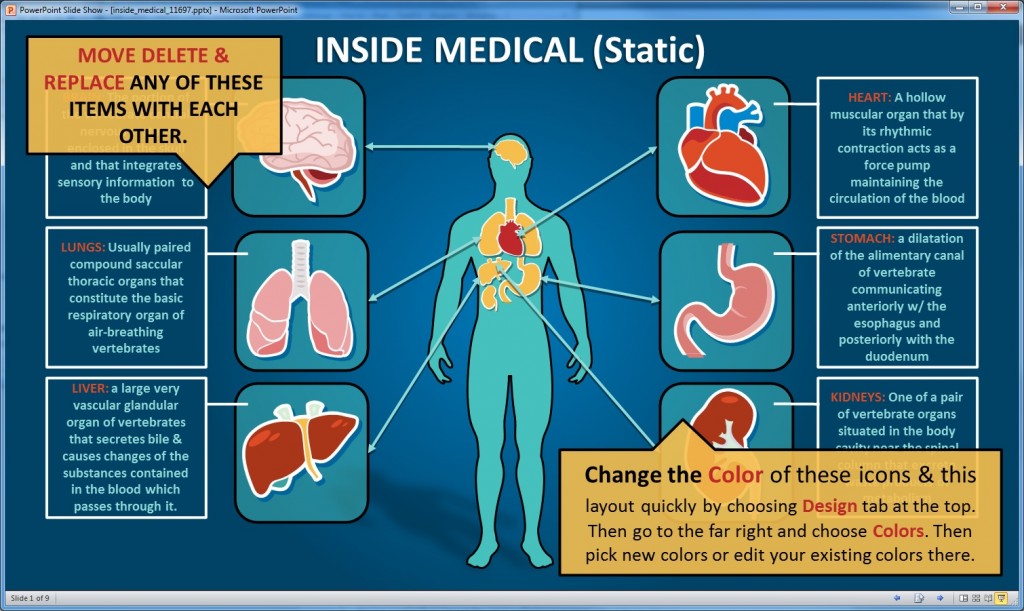 Inside Medical PowerPoint Template
Today we're taking a look at one of our newest PowerPoint Templates: Inside Medical.  This toolkit provides a basic outline of human anatomy, with interchangeable icons, evenly spaced areas for information, and the ability to change all colors together using the design color options in PowerPoint.
Slide # 1 and 2 are a male silhouette with 6 standardized icons as well as text boxes for additional details of each organ highlighted.  Slide # 2 has the added feature of being an animated slide, enabling each organ to come in separately , along with its detail information.
Slide # 3 and 4 are the female equivalent of the first two slides, offering the same set of text boxes and image placement.
The remaining slides are different available organs, a standard silhouette, excellent descriptor boxes which may be used anywhere in the template, three sets of icons available to depict various organs, and finally a group of infographic specific icons.
To view our other available medical content, please click .