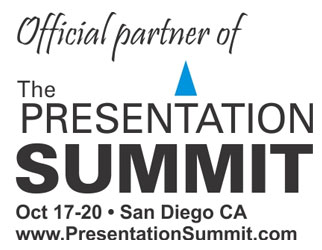 Usually trade shows are a grind, but there is one in San Diego this October that promises to be different. The Presentation Summit brings together the most talented designers, the most skilled presenters, the most knowledgeable PowerPoint trainers, and the most cutting-edge service providers (like us!). We are a partner at the Presentation Summit and we think that you would enjoy attending.
Attendees at the Summit do much more than just learn. They network, they compare notes, they swap stories, they problem-solve together, and they become part of a greater community of presentation professionals. (We hear that the organizers throw good parties, too.)
If you would like to consider attending, visit the conference website for more information at www.PresentationSummit.com.  We think you would really enjoy the experience.