What Version or Year of PowerPoint do I really have?? 
This question is actually very common among many folks, and we have decided it is time to address this.  We'll be starting with PowerPoint 2007 vs. 2010.  There are several ways to determine which Year of PowerPoint you are using, we'll start with a fairly straight forward method:
The Icon:
PowerPoint 2007 has an icon that looks like this:

PowerPoint 2010 has an icon that looks like this:

If you are not able to locate the icon on your desktop etc, you can also check when you are IN PowerPoint by checking the upper left corner of your screen.
The "PowerPoint Method:
PowerPoint 2007 has this image: (Note the circle with the Windows logo in it)

PowerPoint 2010has this image: (Note the box with the letter P in it)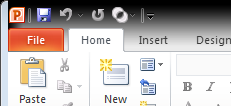 You can also check the year of PowerPoint by looking in your All Programs Menu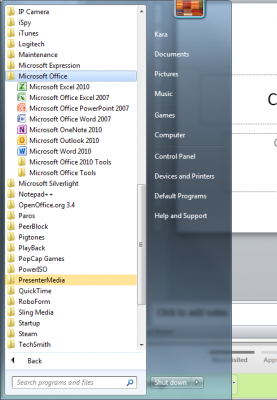 ---
Next, you can see which Version of PowerPoint you have as well as the year by going through PowerPoint's help system. This is super helpful, as it can help tell whether or not you have the latest Microsoft Update installed. I will start with the 2007 version, as it is slightly different than 2010.
1)Open PowerPoint 2)Click "Office Button" in the upper left corner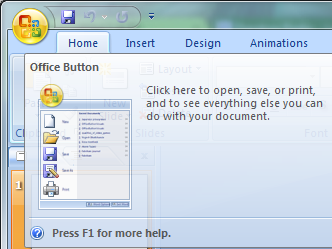 Go to "PowerPoint Options" at the bottom, center of the dropdown list.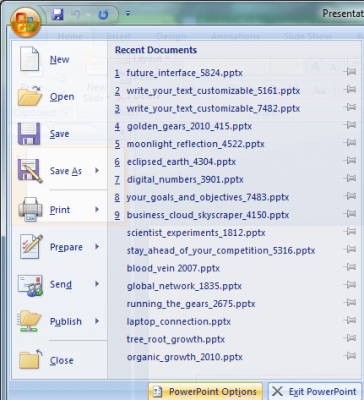 On the "PowerPoint Options" pane that opens, click on "Resources"and look to the bottom of the next pane, where it states "about Microsoft Office PowerPoint 2007", the version number, including any update is listed below. In this case the version is (12.0.6654.5000) SP3 MSO (12.0.6607.1000)
---
Now let's go ahead and determine which version of PowerPoint 2010 you may have.  Start by opening PowerPoint, then click "File" in the upper left corner of the Toolbar.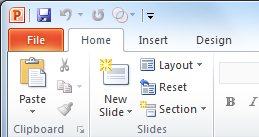 Next, you will see lists of recent presentations and recent places.  "Recent" is typically highlighted at this point.

Next, click on "Help", located three options from the bottom.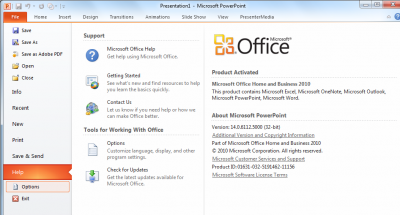 This will enable you to see your Microsoft Office information, in this case Version: 14.0.6112.5000 (32-bit)
---
Thanks for taking the time to read through this brief introduction on PowerPoint Versions, happy presenting!