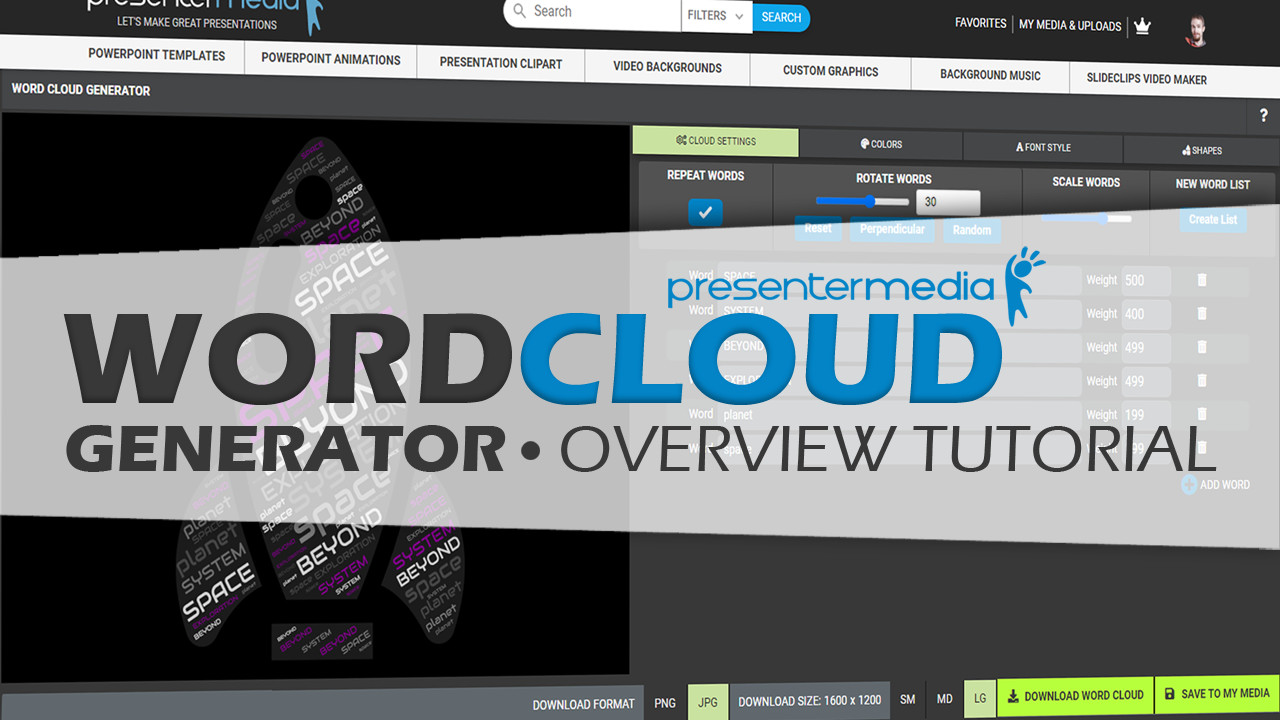 How to Create Word Clouds Overview | PresenterMedia
Posted on: Oct, 2021 By: Judd Albrecht
Get Started Creating Word Clouds
This video explains how to customize a word cloud using our word cloud generator. After watching this tutorial on how to create word clouds, you will be ready to dive in and start building your personalized word cloud art.
ADVANCED TUTORIAL
How to Combine Your Created Word Clouds with Customizable Graphics.
This wordcloud tutorial video shows a powerful technique for taking the word cloud you create from our online wordcloud generator and adding them to our customizable graphics. The result of doing this will give you a new spin on creating word clouds that your viewers will love.
After you make a word cloud, open a customizable graphic in the online customizer app, then load the word art you made into the custom graphic word area. Once in place, click build custom graphic, and it will output the custom graphic with your word cloud embedded in it.
How to Create a Word Cloud from Scratch.
Starting from scratch is another option as you begin to create a word cloud. There will be no design loaded in when you open the word cloud creator and start from scratch. At first, this can seem a little overwhelming as you think; where do I begin. No worries, check out this quick video tutorial below to see how you can quickly start creating a design scratch.
Add your word clouds to PowerPoint slides.
So what do you do once you have your word cloud created? Well, if you are using presentation software like PowerPoint, Google Slides, Keynote, or Prezi, you can easily insert it into your slides as an image. Using our animated PowerPoint templates is a great way to call attention to essential points or concepts in the presentation you create.
Have fun, be creative, and start creating some awesome word cloud art.


By: Judd Albrecht
Judd enjoys anything creative. As a content designer at PresenterMedia, he gets to put that creative desire to use everyday. "Every day I'm excited to come into work and start creating great content for our subscribers". He has degree in computer animation with over 15 years of graphic design experience, which has given him the skills to design quality graphic content. When he's not at work, he finds time enjoying the great outdoors, jamming on the bass guitar and playing with his kids.