If you've ever been using PowerPoint and realized there was a slide that needed to be deleted, you may have wondered "How do I delete a slide in Microsoft PowerPoint 365?" Maybe you've googled "How to delete a slide from PowerPoint" and ended up here. Regardless, let us set your mind at ease and show you three ways you can easily delete a slide in PowerPoint.
Right Click
The first is my preferred method for how to delete a slide in Microsoft PowerPoint is using a mouse. Using your mouse, click on the preview of the slide you wish to delete. Next, right-click on the slide and select "Delete" from the dropdown menu that appears. For extra credit, notice that you can also duplicate the slide, change the layout and much more from this menu!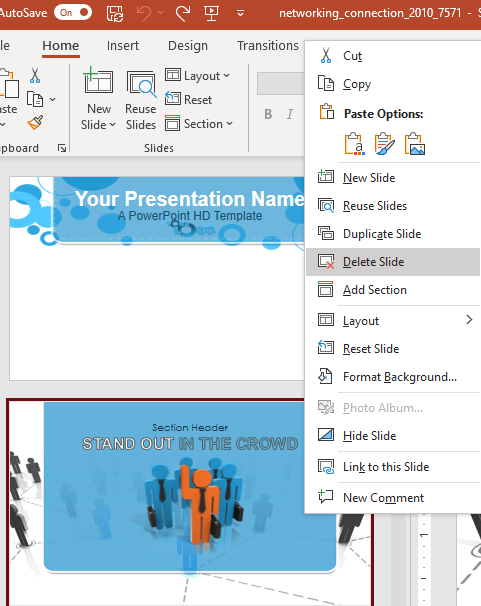 Keyboard Shortcuts (Quick ways to delete a slide in PowerPoint)
The second way you can delete a slide in Microsoft PowerPoint is by clicking on the slide and simply pressing the "Delete" key on your keyboard. This way works quickly but sometimes feels less intentional, so I tend to veer away from it.
Finally, you can also press the "Backspace" key on your keyboard to delete the slide after you've clicked on the preview.
You can see which slide you have selected by the dark red/orange outline that appears around the preview.
Don't forget to check out some of our tutorials such as How to use Snip and Sketch to take a picture of your screen or How to embed a PowerPoint presentation into your website. If you've ever wondered how we make our presentations so fast, watch our video on using the PresenterMedia add-in to put our content DIRECTLY into your presentation, no web surfing required!
If you're more of a visual learner, you can view our video tutorial showing this process below!