Our animated templates for PowerPoint 2007  require that your Office 2007 install be updated with Microsoft's Office 2007 Service Pack 2.  This service pack also fixes several bugs and stability issues with PowerPoint 2007 and other Office applications like Outlook and Word.  This is a free update from Microsoft and installs automatically if you are using Windows Update to keep your computer up to date.
Here is a quick way to check if you have the Office 2007 service Pack 2 installed in PowerPoint 2007.
Find PowerPoint Options at the bottom of the menu that appears when you click the Office Button in the upper right corner of your screen.  See screen shot below.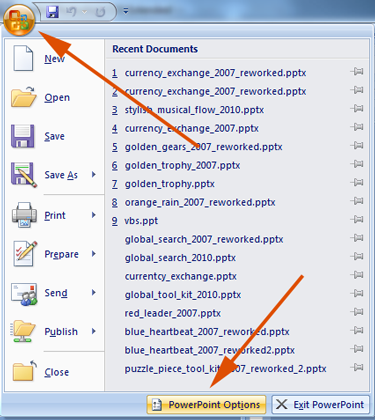 Under PowerPoint Options, Click on resources.  The exact version number of PowerPoint 2007 you are using will be listed on at the bottom of the window that appears.  See screen shot below.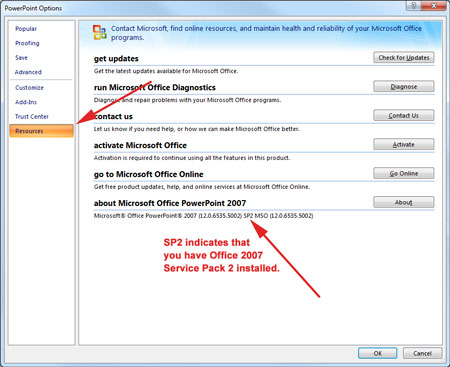 In the version number if you see SP2 indicated, then you are currently have Office 2007 Service Pack 2 installed.  If SP2 does not appear, you should update your installation by clicking "Get Updates" at the top of this window.
Good Presenting!
Here is another article from our blog about updating PowerPoint 2007 to Service Pack 2.