Welcome to PresenterMedia's PowerPoint Tutorials section. We will be taking a look at some of the behind the scenes functionality of PowerPoint. Above all, the main focus of this tutorial is to show in-depth instructions on how to edit the individual colors of PowerPoint's theme colors. The colors in our templates are all set to theme colors and are easily editable.
In the tutorial video below we will discuss where to go to edit the theme colors for PowerPoint. Most importantly, we will look at how the accent colors work and how to change them. Also, Below I will also talk about who to create colors for making your own color pallets. Follow along now as we dive into this tutorial about PowerPoint theme colors.
Useful things your will learn in this PowerPoint tutorial.
Navigating to the PowerPoint color theme editor
Selecting from PowerPoint's preset theme colors
Creating and editing your own theme colors
Swapping one image for another.
Find a color theme using a Color Pallet creator.
But, if you have looked through the PowerPoint theme colors and have found nothing you want to use, I would recommend trying out a color palette creator. There are many free pallet creators out there, but the one I like to use is Adobe Color Creator. In this application, you can change the RGB values of a color and it will give you corresponding colors that work as a theme. As a result, this will help you build a nice-looking set of theme colors. Likewise, you can also use the Extract from Image option to pull theme colors and create a palette from a photo. Check out this application here.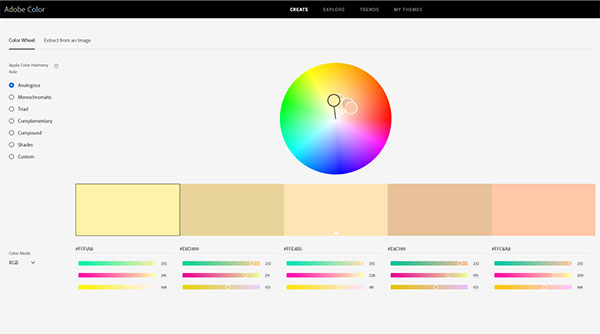 Thanks for taking the time to check out this PowerPoint Tutorial!
We hope you've learned something new and exciting. Now, take a look at our library of PowerPoint Templates. Start downloading PPT templates and customizing the themes to your favorite color palette.