A PowerPoint business template is an excellent way for any business professional to quickly display their information and data in a visually engaging way. How is this accomplished, you may ask? It's done by skipping over the "start from scratch phase" and plugging the material from their presentation into a professionally designed layout.
Below are the best business templates from PresenterMedia's business category. These templates have risen in popularity and deserve to be featured on PresenterMedia's best business PowerPoint templates list.
Sitting at the top of the best business PowerPoint templates is Dashboard Overview. This template is interactive, allowing the presenter to switch through dashboard slide layouts quickly. With its visually unique set of animated slides containing charts, diagrams, graphs, and a project timeline, it's no wonder it ranks at the top when it comes to great business templates for PowerPoint.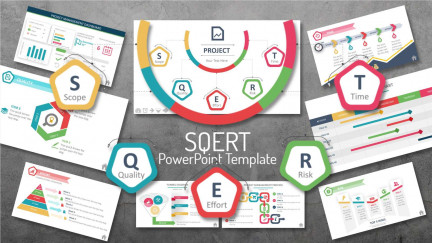 Business professionals often use the SQERT Project management model to align data into five primary project constraints. S.Q.E.R.T is an acronym that stands for Scope, Quality, Effort, Risk, and Timing. The popularity of this business template is attributed to how well the model uses multiple factors to show effective management. All text placeholders and theme colors are easily changed in this template, giving the user complete customization control.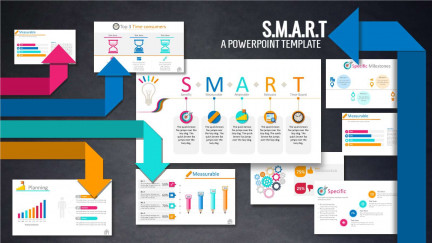 This template lets business professionals set goals and clearly attain specific objectives. S.M.A.R.T is an acronym that stands for specific, measurable, achievable, relevant, and time-based goals. Businesses use this visual tool to show goal-setting and an action plan to achieve the best results. This template contains fully customizable text placeholders and theme colors to personalize.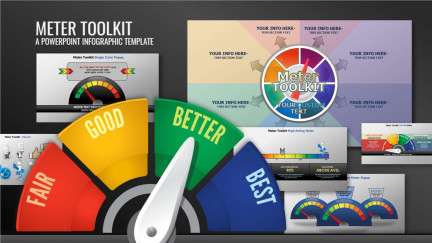 This PowerPoint toolkit is a popular way for businesses to visually show what is working and what is not within their company. The engaging animated meters capture the focus and attention of those attending a business meeting. Therefore, This PowerPoint templates' versatility has propelled it to become a favorite in the business world.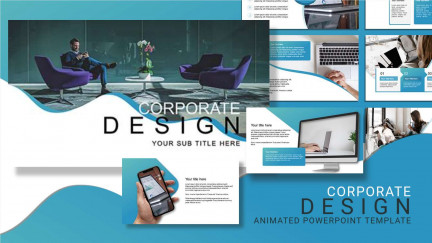 This business template boasts a sleek wave design that visually catches the eye with a great contemporary design. The clean design of this template and the full customization ability give it an edge in its popularity with business professionals in the corporate world.
S.W.U.K.S is an acronym that stands for sense, want, understanding, know-how, and support. The SWUKS business management model is used by organizations going through a change and visually guides individuals through a transitional change. This SWUKS equipping model has made this PowerPoint template a popular way for companies to prepare individuals for a change in their organization.
Business Templates on the Move
As time passes the top templates may change as newly added business PowerPoint template rise in popularity overtaking the top featured spots. However, what will not change is PresenterMedia's continually growing PowerPoint Templates collection and love for serving presenters of all kinds with excellent visual presentation materials.
Happy Presenting!