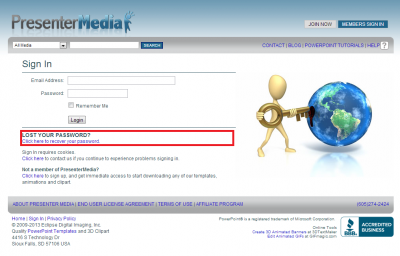 To retrieve your
Occassionally, we all misplace things. Including our passwords. If you've ever forgotten your password, you know how frustrating it can be to retrieve it. Here at PresenterMedia we wanted to make the process of retrieving your password simple. If you click the Members Sign In button on our website, and suddenly realize you've forgotten your password, click the link below LOST YOUR PASSWORD (highlighted in red in the image above). This will direct you to a screen similar to this: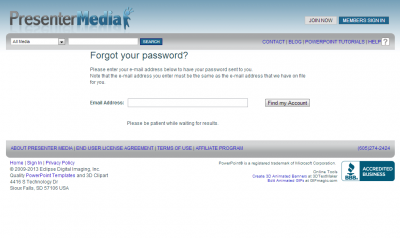 Enter your username (Email Address) and click "Find my Account". An email will be sent to you containing your password. Once you have your password, click the login link again, enter your username and password, and you may proceed to download the content from our website.
Or, you can simply click here.