A list of the top health and medical templates from PresenterMedia
We've put together a list of some of our most popular health PowerPoint Templates for use in professional health, healthcare and medical presentations. You can combine slides and elements from any of these templates to build your own custom health related presentation for you or your team.

Wellness Wheel Interactive PowerPoint Diagram
This wellness wheel is a powerful PowerPoint tool to engage your audience and teach them about the different dimensions of health. In this template, find a wellness wheel diagram representing the different areas of health.
Each section corresponds to one dimension in which the audience can learn more about factors and information about that section. For example, compare physical vs. emotional health. By interacting with the PowerPoint wellness wheel diagram, your audience will understand better how to maintain their health and well-being.
Virus Infographic Health Powerpoint Template
Looking for a virus PowerPoint template that is both creative and engaging? This template comes with various slides themed around a virus design, all of which are animated to help you better engage your audience. Each template slide features a simplistic virus layout that is easily customized with your colors, images, and logo.
Plus, all the icon images in this template can be replaced with your own or from the PowerPoint icons library. Get started with this template and create an impressive health awareness presentation that will leave your audience virus-free!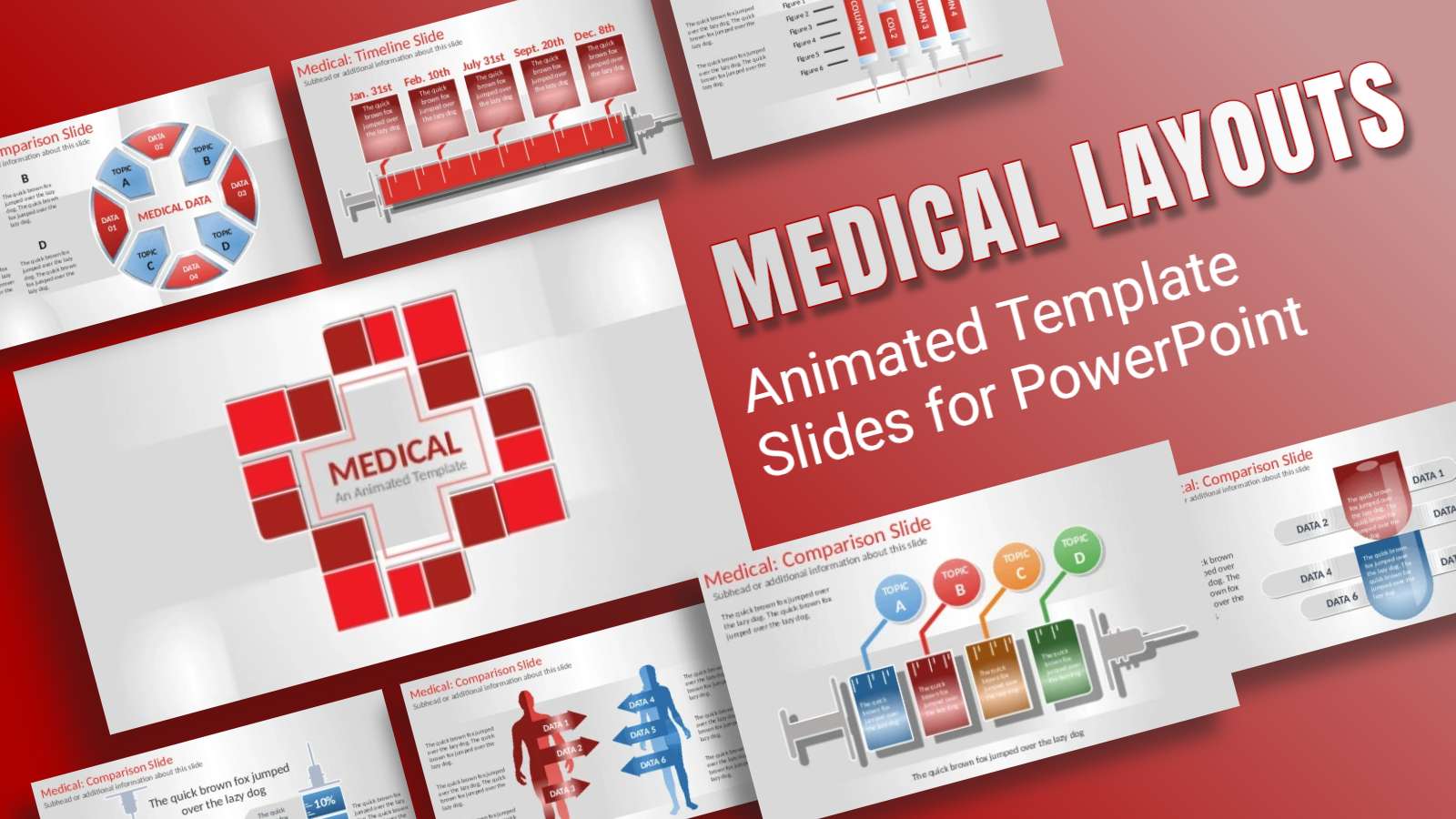 Medical Comparison PowerPoint Diagrams
Whether you're a medical student, doctor, or healthcare professional, you know that accurate and up-to-date information is critical. That's why we've created this Medical Comparison PowerPoint Diagrams template - to help you quickly compare data and information in your next presentation. With seven animated slides themed around medication doses, this template is perfect for displaying your medical data in a clear, engaging way.
Plus, our easy-to-use design means you'll be able to create a beautiful presentation in no time. Get started with this template today and give your audience the information they need to make informed decisions.

Hospital Patient Care PowerPoint Design Template
You're a medical professional who is dedicated to providing the best possible care for your patients. You want to be able to communicate effectively with them, and you need a way to do that that is both professional and engaging. The hospital patient care PowerPoint design template is the perfect solution.
With its easy-to-use design, you can quickly create a presentation that will grab your audience's attention and help convey your message clearly. The template comes with everything you need to get started, including professionally designed slides and images, and it's fully customizable so you can make it your own.
Whether you're presenting to a group of patients or giving a lecture on patient care, this template will help you do it in a way that is both informative and engaging. Downlaod this PowerPoint template today and start making the most of your presentations.

Healthcare PowerPoint Infographic Slides
If you're looking for a comprehensive and engaging way to communicate your healthcare information, this healthcare infographic PowerPoint template will help transform your data for that purpose. It includes a variety of medical-themed infographic layouts that will add a professional and modern touch to any healthcare presentation.
With 15 slides included, you'll be able to easily convey even the most complex information in a way that is visually appealing and easy to understand. So whether you're presenting to a group of healthcare professionals or the general public, this template will help ensure that your message gets communicated effectively.
Medical Themed Photo PowerPoint Slides
Building a slideshow presentation? Start with a strong foundation by using this medical themed photo template. This set of slides is perfect for healthcare professionals, doctors, and others who need to communicate complex information in an easy-to-understand way.
With eye-catching graphics and a professional color scheme, your slideshow will look great from start to finish. Plus, you can easily customize the content to fit your specific needs.
Start Downloading Now!
So, if you're looking for a quick and easy way to create a professional health presentation, look no further than our selection of health PowerPoint templates. With slide designs and elements perfect for any topic related to healthcare or medicine, these templates will help you convey your message powerfully and engagingly. Plus, they're all customizable so that you can make them with your unique look.