Websites that you have visited that store browsing information create files called cookies.  First party cookies are set by the site domain in the address bar whereas third party cookies are embedded on the page from other domain sources such as ads or images.  Cookies can remember your preferences and make browsing easier by avoiding signing in each time.  Cookies can also risk your privacy by tracking sites that you visit.
Occasionally, we have members contact us about an issue where downloading our content is being blocked or they are unable to log into our site.  To optimize peak performance on our site you may need to clear your cache or delete your cookies. If you are experiencing difficulties with our add-in or download issues our site, then it may be an issue with your internet connection or clearing cookies and temp files.  If you receive this error message in our PowerPoint add-in try clear your cookies, cache and website data.
It is a very simple process and below is how to find this information in Internet Explorer.
Internet Explorer
Open up an Internet explorer window

Click the Tools button in the upper right hand corner

Point to "safety" and click "delete browsing history"

Make sure "cookies and website data" is check marked and press delete"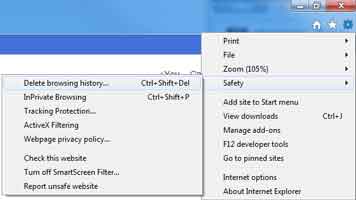 After managing your cookies and site data you can log back into PowerPoint and Presenter Media.