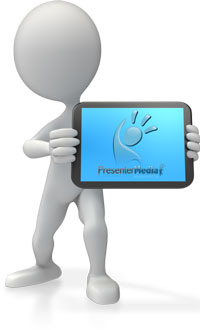 More and more people are using mobile devices like Apple's iPad to display their presentations.
At PresenterMedia, we are looking at ways to make our animations and templates more compatible with these mobile devices.  For example, we are starting to look at ways to convert our PowerPoint templates over to animated templates which will work with the Keynote app on the iPad.
Our question to you: Do you currently use an iPad or other mobile device to assist you with your presentations?  We'd love to hear how you are using mobile technology to assist with your presentations.  If you are not currently using something like an iPad, we'd like to know why not.  Your feedback will help us tailor new services to meet your mobile device needs.
Post a comment below, and take the time to answer our poll question on our Facebook page here.