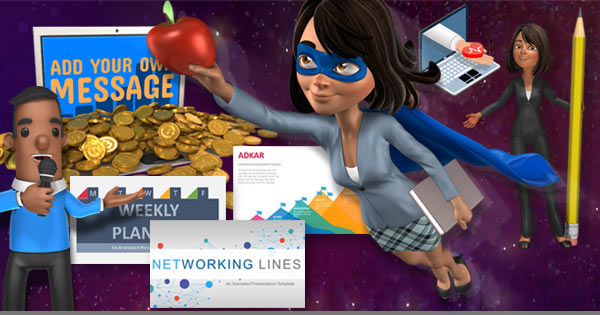 PresenterMedia July 2019 Newsletter
Posted on: Jul, 2019 By: Judd Albrecht
July is wrapping up, and we have been working hard on the development of the SlideClip Video Maker. For instance, BETA Version 0.8.1 released with the inclusion of better group editing controls, ability to add custom animations & clipart, and bug fixes. We expect the Version 0.9 release around mid-August. Also, look for some how-to tutorials coming soon.
Also, running parallel to the SlideClip development, PresenterMedia artists have created many new videos, illustrations, and templates ready to energize your presentations. Therefore, be sure to check out all these new designs now available with your subscription.
Save time on your presentation design by starting with any of our Pre-designed and animated PowerPoint Templates.
See What's New
Copyright © 2021 PresenterMedia.com. All Rights Reserved.


By: Judd Albrecht
Judd enjoys anything creative. As a content designer at PresenterMedia, he gets to put that creative desire to use everyday. "Every day I'm excited to come into work and start creating great content for our subscribers". He has degree in computer animation with over 15 years of graphic design experience, which has given him the skills to design quality graphic content. When he's not at work, he finds time enjoying the great outdoors, jamming on the bass guitar and playing with his kids.